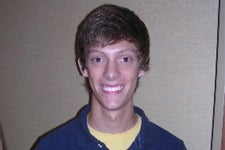 Cameron Rotton, 17, of Roebuck, represented South Carolina July 19-23 during the annual Youth Leadership Conference in Washington, D.C.  The conference is sponsored by  the National Rural Electric Cooperative Association (NRECA), the national trade association for cooperatives across the country.
Rotton, a member of Laurens Electric Cooperative, began his electric co-op experience in June when he attended the Electric Cooperative Youth Tour in Washington, D.C., with 42 other South Carolina high school students and nearly 1,500 students from across the country.  The South Carolina students selected Rotton to serve as their representative on the Youth Leadership Council (YLC).
The July conference agenda included leadership and team building exercises, meeting with congressional staffers who are "alumni" of NRECA's Electric Cooperative Youth Tour, and a speech competition to select the NRECA's national youth spokesperson.   
"It was an awesome trip, and I know I've made life-long friends," said Rotton.  "I didn't place in the speech contest, but I don't feel like I've lost anything, because I know I gained so much just from the experience. I'm extremely proud of the group that did win, though. Ben Putbrese ,from Illinois, was the 2nd runner up, John LeBlanc ,from Arizona ,was the 1st runner up, and Amanda Bennett, from Georgia, will represent the YLC as the national spokesperson in February.  I've learned so much and gained so much respect and pride for electric co-ops!"

Rotton, and the other members of the YLC will participate in the 2009 NRECA Annual Meeting in New Orleans, Louisiana, in February.  They will provide assistance to the NRECA staff and co-op delegates, participate in the Parade of States at the opening General Session and take part in a variety of educational activities.