ANDREWS, S.C. — Martha Scott was like many rural South Carolinians, living in an older home that wasn't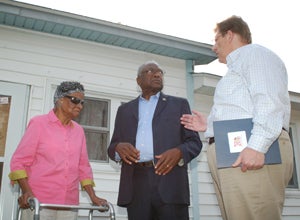 energy efficient—and it was costing her. Beyond wasting energy, the home's aging and leaking roof needed to be replaced. She didn't have the resources to fix any of it.
Ms. Scott's predicament illustrates a widespread challenge across the Palmetto State. Aging housing stock and low incomes present hurdles that reduce the effectiveness of energy efficiency efforts.
"It sounds a little strange to say it this way, but many residents struggle to overcome the high cost of saving money," said Mike Couick, CEO of the state association of electric cooperatives. "By that I mean, they can't afford to make the improvements that allow them to save energy and, importantly, live more comfortably."
Today, thanks to a partnership between Santee Electric Cooperative and Home Works of America, Ms. Scott's home has a new roof and is more energy efficient, more comfortable and safer.
"It's a blessing. I can already tell it made a difference. It's more comfortable," said Ms. Scott, 80, who is blind and depends on her son next door for help.
"It feels good to know her feet won't be cold in the winter, and I know she'll like saving money on her power bill," said Joseph Scott, a disabled Vietnam War veteran. "Talk about a great Veterans Day gift."
Energy efficiency and savings
The home got several important upgrades. A new energy efficient heat pump, rated at 14.5 SEER, replaced the old 6.5 SEER unit that had failed. (The higher the unit's SEER rating the more energy efficient it is.) The old 3 ton heat pump could be replaced by a smaller 2.5 ton unit because the home is better sealed against air leakage.
"The house had so many leaks, she was air conditioning the outside," said Mike Smith, Help My House program manager. "But I would not want folks to think this is unusual. You'd be surprised at the number of older homes, in town or in the country, in poor places or rich neighborhoods, that simply are not well-sealed around windows and doors. We cut the air leakage in Ms. Scott's home by nearly 50 percent."
 "Many homes also have ductwork that leaks," Smith said. "The ductwork on this house was losing 30 percent of the air that went through it. We reduced it to four percent."
Workers added insulation in the attic of the home, increasing it to R38 from R11. (R-values describe the thermal resistance of insulation materials.)
The energy efficiency improvements were made possible by Santee Electric Cooperative's Help My House program, which provides low-interest loans for home energy efficiency improvements. The program eliminates up-front charges that prevent many homeowners from making such repairs, covering 100 percent of improvement costs and allowing eligible cooperative members to repay the loan monthly on their utility bill—a process known as on-bill financing.  A group of co-ops in South Carolina first piloted the on-bill financing program in 2011. Today, eight electric cooperatives, including Santee Electric Cooperative, have made more than 550 Help My House loans that average nearly $10,000.
Cooperatives are hoping to expand the reach of on-bill financing with help from the new Rural Energy Savings Program (RESP), an idea first proposed in 2010 by U.S. Rep. Jim Clyburn (D-SC) and approved by Congress as part of the 2014 Farm Bill. Piloted for the first time this year, RESP makes $52 million available to co-ops and their affiliates to help consumers implement cost-effective, energy efficiency and renewable energy measures. South Carolina electric cooperative officials this month applied for $13 million, one fourth of the national RESP budget.
Safety and comfort
Energy upgrades seem incomplete—and sometimes not economical—if the work does not include steps to improve liveability factors such as health, safety and comfort. Those factors are beyond the scope of the Santee Electric's Help My House program and the RESP financing. A partnership with Home Works of America provided a solution.
The non-profit, faith-based Home Works repairs houses of people in need, typically elderly residents living on fixed incomes. Donations help pay for materials. (The work is typically done by adult and youth volunteers, though that approach was not used on this home.) Repairs are made at no-cost to homeowners. In its 20-year history, Home Works has repaired thousands of homes in South Carolina, North Carolina and Georgia.
"We're grateful for the pilot partnership with the electric cooperatives and the Help My House initiative," said Jim Powell, Home Works of America executive director. "It is very satisfying to participate in a collaborative effort that brings compassion and qualified assistance to low-income South Carolina homeowners. The effort has reduced utility expenses and carbon emissions while increasing hope. The need is immense."
Since 2014, more than a dozen cooperative members have received collaborative help from Home Works of America and local electric cooperatives. 
---
Electric cooperatives are independent companies; therefore, one cooperative's programs and services are not necessarily the same as others. Help My House® programs are operated by Aiken (Aiken), Black River (Sumter), Little River (Abbeville), Lynches River (Pageland) and Santee (Kingstree) electric cooperatives. 
The Electric Cooperatives of South Carolina, Inc. is the state association of independent, member-owned electric cooperatives.  More than 1.5 million South Carolinians in all 46 counties use power provided by electric cooperatives.  Together, the co-ops operate the state's largest electric power system with more than 70,000 miles of power lines across 70 percent of the state.