In June 2021...
74 high-achieving students in the state participated in a week-long, part web-conference, part in-person event sponsored by South Carolina's electric cooperatives.
The teens used their laptops and smartphones to discuss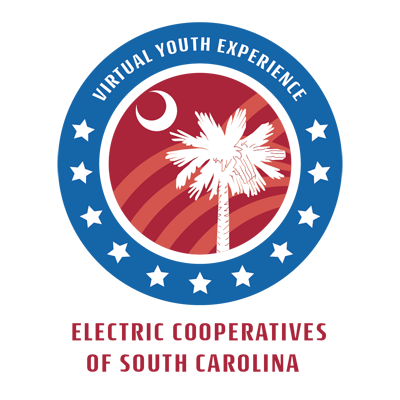 issues of the day with four members of South Carolina's Congressional delegation—U.S. Representatives James Clyburn and Nancy Mace and U.S. Senators Tim Scott and Lindsey Graham.
"There are a lot of hurdles that we all face as Americans,"  Scott told the students. "I think the best way to address these issues is to focus on education. A good education is the closest thing to magic in America that I've ever seen."
The students also got screen time with Rev. Charles Jackson of Brookland Baptist Church and State Epidemiologist Dr. Linda Bell.   
"I thank God for both the principle and the practice of love," Jackson shared. "We have to transcend these barriers that divide us, and we can do that through love."
To conclude  the week, the students gathered at Fairfield Electric Cooperative where they heard inspiring messages from South Carolina Lt. Gov. Pamela Evette and Chris Singleton—a former professional baseball player whose mother, Sharonda Coleman-Singleton, was one of nine killed in 2015's Emanuel AME Church shooting.
Evette passed along advice she'd received from her grandmother, a Polish immigrant. "If you ever get the opportunity to serve, you should," said Evette. "Take your God-given talents and make the country an even better place."
Singleton travels the country speaking to sports teams, churches and corporate events about unity and overcoming adversity.
"People think forgiveness is letting the other person off the hook," he  shared. "It's really letting yourself off the hook. It allows you to move forward. Forgiveness is freeing."
The students also spent the week in teams learning how to create and produce audio podcasts that complete the sentence: "This is my country…."
A group of S.C. journalists judged the podcasts and awarded $5,000 scholarships to each student in the winning group. See the winners here.
The Virtual Youth Experience began last year when the risks of COVID-19 caused cooperative programs like the Rural Electric Youth Tour and the Cooperative Youth Summit to be cancelled. The programs allow high school students to learn about electric cooperatives and how their government works.
View each day's program below:
View the highlights of the 2021 Virtual Youth Experience below:
---
In June 2020...
South Carolina's electric cooperative sponsored the first-ever Virtual Youth Experience.
This experience brought together 77 high-achieving high school students from across South Carolina to meet with various state and national leaders. This live, virtual conference focused on highlighting the skills required to lead during the COVID-19 pandemic and allowed students the opportunity to interact with those responsible for guiding our state through this unprecedented time.
During the conference, students also receive hands-on training in journalism skills to create podcasts that answer the question: What are the expected impacts of COVID-19 on Generation Z? Utilizing classic storytelling structures, students worked together in small teams to incorporate both their individual experiences during the pandemic and lessons learned from those leading South Carolina.
Completed podcasts will be submitted on July 17 and evaluated by a panel of distinguished journalists. The finalists will have their podcasts showcased on the Electric Cooperatives of South Carolina website, with the members of the top entry each receiving a $5,000 scholarship. The top entry will be announced on July 31.
Below, you can view conversations these students had with state and federal leaders during the Virtual Youth Experience: